OUR STORY
CELEBRATING OVER 50 YEARS OF STYLE, PASSION & FAMILY
A LOOK AT TWO'S COMPANY HISTORY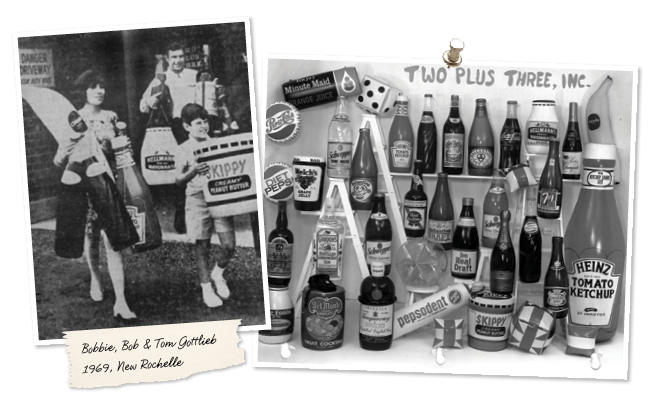 TWO'S COMPANY IS AN AUTHENTIC AMERICAN STORY.
A BUSINESS THAT TRACES ITS ORIGIN BACK TO 1969, WHEN BOB AND BOBBIE GOTTLIEB FOUNDED THE COMPANY IN THEIR HOME, AND WHICH LIVES ON OVER FORTY YEARS LATER AND WITH A FOOTPRINT THAT SPANS THE GLOBE.
Inspired and guided by Bobbie and Tom, her son, the company's aspirations are supported by a solid vision and a relentless passion for great style and creativity in everything that they do. Bobbie and Tom strive to maintain the company's leadership position in the gift and home industry, not only by offering the best product but also by their inspiring showroom displays their exciting trade show offerings and by their world class service staff.
Product is what drives our vision. There is nothing like entering a shop and discovering an accessory, gift or piece of jewelry that one just must have! The talented product development team is committed to the design of new, exciting and stylish products, creating collections that are clearly of their time and which provide the best value for clients.
Every day the exclusive Two's Company sales team is on the road doing trunk shows, evaluating inventory needs and bringing to retail stores the latest and greatest in the product lines. Each Sales Associate is carefully selected and trained to excel in every aspect of service.
While the originality of the product and the quality of the service are hallmarks of the company, innovation in the sales process has also determined the business growth and success over the years. Two's Company has received many accolades for its best-in-class shipping practices and exemplary customer service.
Behind the product stands an entire company whose desire is truly to support the retailer's business and to build a brand that stands for the integrity of the founders, that delivers on its promise and that generates an endless and renewable source of happiness for all involved.
AND SOMEHOW WE FEEL THAT THE JOURNEY HAS JUST BEGUN...